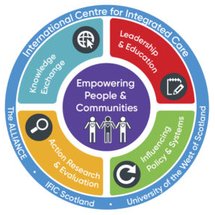 Feb. 7, 2021
Europe,
Global
Webinar
IFIC Scotland Integrated Care Matters: Build Back Better Webinar Series
The new report from the International Foundation for Integrated Care (IFIC), Realising the true value of integrated care describes the steps we must take to create a radically different future beyond Covid-19. The report is a powerful call to reset our compass to a new reality based on solidarity and collaboration for population health. IFIC Scotland and partners will explore this new future in series 5 of their Integrated Care Matters webinars.
Guest panelists, members of IFICs international Special Interest Groups, will share their experiences and insights and challenge us to design a better future that improves lives and opportunities for all. Each webinar will be accompanied by a topic resource with links to further information.
All who register will receive links to the recordings and topic resources.
Event detail
From

:

to

:
Location:

ONLINE

Country:

United Kingdom