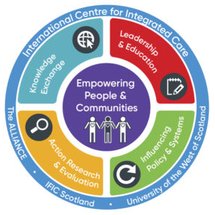 Feb. 3, 2021
Europe,
Global
Webinar
Age Friendly, Healthy, Connected Communities. IFIC Scotland Integrated Care Matters: Build Back Better Webinar Series
IFIC's new report, Realising the true value of integrated care describes the steps we must take to create a radically different future beyond Covid-19. The report is a powerful call to reset our compass to a new reality based on solidarity and collaboration for population health. IFIC Scotland and partners will explore this new future in series 5 of their Integrated Care Matters webinars. Guest panelists, members of IFICs international Special Interest Groups, will share their experiences and insights and challenge us to design a better future that improves lives and opportunities for all. Each webinar will be accompanied by a topic resource with links to further information. All who register will receive links to the recordings and topic resources.
Hold the dates and register your interest for the free webinar – broadcast live:
Anne is Senior Associate with the International Foundation for Integrated Care and Director for IFICs hub in Scotland. She is deputy honorary secretary for the British Geriatrics Society and was clinical lead for Reshaping Care for Older People and integrated care programmes in Scotland.
Read Diana's interview here where she gives some insight into her involvement with the Assembly and how she has helped her community become more age-friendly.
Judith's research interests lie in the areas of health and wellbeing where she explores the ways in which people, particularly older people, living in disadvantaged communities experience processes of marginalisation within existing health, social and cultural systems. She has substantial experience in directing research in the area of health and ageing. Her current research includes projects on placemaking with older people, including issues of age friendly cities and communities, ageing and technology, intergenerational design, housing for cultural and religious minorities and ageing-well-in-the-right-place. An expert in qualitative methodologies, Judith prioritises the involvement of participants in the design, implementation, interpretation and dissemination phases of her research, including co-researchers from highly marginalised groups such as asylum seekers, refugees and older frail people within qualitative frameworks. Judith has also conducted survey and questionnaire studies, again reaching seldom heard groups. She has published widely in the fields of ageing, health and community/environmental psychology, alongside publications concerning the use of visual methodologies and participatory processes.
Beth leads on the age well priority as part of the collaboration with the GM Ageing hub and the wider eco-system to make active ageing a central pillar within the Greater Manchester Ageing agenda. Her aim is to continue to support and develop on the established Greater Manchester age friendly city-region status, enabling better health, wellbeing and independence for older people.
Janette was Nurse Consultant for Long Term Conditions in Lanarkshire, and National Clinical Lead (Nursing) for Anticipatory Care Planning with Healthcare Improvement Scotland. Now retired, she coordinates IFICs Ageing and Frailty special interest group and supports the Frailty Matters project led by the University of the West of Scotland. Janette is a founder member of Dementia Friendly Aberfeldy and volunteers as a Community First Responder with the Scottish Ambulance Service in Highland Perthshire
Claudia leads on Amigos do Idosos – a state wide multi-sector project to promote age friendly communities and services. Throughout 2019 she supported IFIC Scotland and colleagues from State and Regional Health teams in the delivery of the Transforming Together system strengthening project.
Natalia, a Family physician with a community focus, is based in Buenos Aires and collaborates with the Dalla Lana School of Public Health, University of Toronto, on an international project that seeks to apply a Salutogenesis framework to transform health systems. She coordinates an Active Ageing program led by the Hospital Italiano, Buenos Aires. This involves community health asset mapping and "Tejiendo la Red" as examples of interventions to promote opportunities for social participation by older adults and encourage social prescribing by staff working in healthcare institutions.
With a host of qualifications in Nursing, Psychiatric Nursing, Gerontology and Dementia Practice, and over 30 years of clinical experience, Anita remains passionate about the care of older adults with mental illness/dementia. She has worked in the field of long term care since 2005 and has been a Clinical Nurse Specialist (CNS) in Fraser Health Long-Term Care (LTC) since 2011. She combines clinical practice with system design and evaluation, and is Clinical lead for Behavioural Support Transition Neighbourhoods (BSTN), dementia care and complex care for older adult mental health. Recently her role has extended to supporting COVID-19 pandemic.
Event detail
From

:

to

:
Location:

ONLINE

Country:

United Kingdom