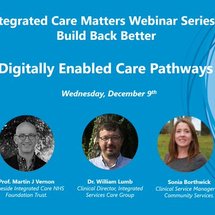 Dec. 2, 2020
Europe
Webinar
IFIC Scotland Webinar: Digitally enabled Care Pathways. Integrated Care Matters
The International Foundation for Integrated Care's report, Realising the true value of integrated care describes the steps we must take to create a radically different future beyond COVID-19. The report is a powerful call to reset our compass to a new reality based on solidarity and collaboration for population health.
IFIC Scotland and partners explore this new future in series 5 of their Integrated Care Matters webinars. Guest panelists, members of IFICs international Special Interest Groups, will share their experiences and insights and challenge us to design a better future that improves lives and opportunities for all.
The final webinar of 2020 in the Integrated Care Matters series 5 will discuss digitally enabled care pathways. All who register will receive links to the recordings and topic resources.
Event detail
From

:

to

:
Location:

Virtual

Country:

United Kingdom