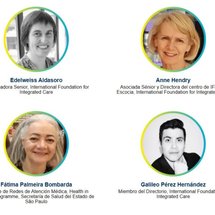 July 30, 2020
Americas,
Western Pacific
Webinar
Webinar: Integrated care in Latin America and the Caribbean beyond COVID-19
The challenges posed by COVID-19 present an opportunity to rethink fragmented health and dependency care systems so that they are integrated, driven by individuals and communities, and resilient to future systemic crises.
The speed and scale of response required by the COVID-19 pandemic shows how fragmentation in the health and dependency care systems significantly impairs their effective response capacity. The provision of health services and long-term care is generally compartmentalized. Inpatient and outpatient care is often separated from primary, rehabilitative, and home care that are provided after patients leave the hospital. There is also no integration with the long-term care provided to people with functional dependency.
During this webinar, IFIC's very own Dr. Edelweiss Aldasoro will present an overview of integrated care and the recent IFIC report "Realising the true value of Integrated Care: Beyond COVID-19". After this presentation, practice-based examples that allow for better care linking, coordination and integration will be examined. First, Fatima Palmeira Bombarda, Manager of Healthcare Networks in the Health in Action Program of the São Paulo State Health Secretariat, and Anne Hendry, Senior Associate and Director of the IFIC center in Scotland, will present the experience of integrated care in the development of a Regional Medical Care Network in four municipalities (Ubatuba, Caraguatatuba, São Sebastião and Ilhabela) in the North Littoral region of Brazil. Finally, Galileo Pérez Hernández, member of the IFIC Board, will analyze the implications for current and future integrated care projects in Latin American countries using scientific implementation lenses and discuss their relationship with the concept of resilience of health systems.
The webinar will be conducted in English and will have simultaneous translation into Spanish and Portuguese.
Find out more about this webinar and panelists here!
Event detail
From

:

to

:
Location:

Washington D.C. time

Country:

United States