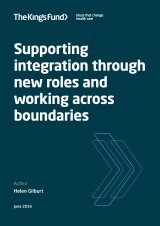 June 30, 2016
Europe
Supporting integration through new roles and working across boundaries
In 2015, The King's Fund was commissioned by NHS Employers and the Local Government Association to produce an independent report on boundary-spanning roles to support integrated care. The work aimed to identify examples of new roles being developed and an understanding of the evidence to support these roles, including impact, features of success and key challenges.
The key findings of the report are:
Where new roles have emerged, they have mainly done so due to developments in practice or to fill gaps in provision.
There is a lack of evidence on the cost-effectiveness of new roles and the extent to which they improve patient outcomes.
There are a number of ways in which integrated care is being delivered without the explicit need for new boundary-spanning roles.
Engaging staff from the outset and building on the existing skills of the workforce can overcome cultural barriers between professionals and organisations to develop integrated ways of working.
To read the full report: Supporting integration through new roles and working across boundaries
Source:

The King's Fund