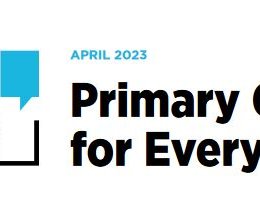 April 19, 2023
Global
Primary Care for Everyone: An Urgent To-Do List for Reform
Worldwide, the health systems with the best outcomes are the ones that get primary care right. Canada's federal, provincial and territorial governments are recognizing the critical importance of improving primary care in their recent funding agreements.
The time for bold action is now. New federal funding is entering the system as bilateral agreements are being signed with provinces and territories. "Family health" is front and centre, with all levels of government and people across the country on the same page. It's time to supercharge the reform.
The Public Policy Forum's Taking Back Health Care project is a year-long initiative to assemble and promote the best thinking about actions necessary to address Canada's health-care crisis. This paper is the second in a series of commentaries that the project is producing. The first paper, Taking Back Health Care: How to Accelerate People-Centred Reform Now, was an overview of the urgent need and opportunity for reform.
It reminds decision-makers that health system solutions have been well studied and it's their job to get on with reform now. It identifies primary care as a national priority and challenges policymakers to deliver change based on what people and communities across Canada value and what they require to become full partners in their health and wellness.
Source: