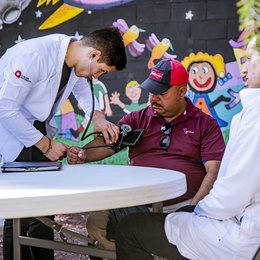 Feb. 17, 2022
Europe,
Global
Introducing The Lancet Global Health Commission on financing primary health care: putting people at the centre
Primary health care (PHC) is an essential component of high-performing health systems, delivering effective, affordable, and inclusive care to people when they need it, and providing the foundation for both universal health coverage and the Sustainable Development Goals. As the platform for providing basic health services and essential public health functions, and for responding to the ongoing challenges of infectious disease and to the rapidly expanding burden of chronic conditions, PHC has a commitment to equity and social justice. Policymakers worldwide are seeking to strengthen their primary care systems to secure the health of their populations across the lifecourse.
Despite the calls to action in the Declarations of Alma Ata (1978) and Astana (2018), PHC is failing to meet the needs of the people—users, providers, and communities—who should be firmly at its centre. Resources that are destined for PHC often do not reach frontline providers. Services are often inaccessible and of poor quality. Users are frequently required to pay substantial amounts to use these services, which, over time, can accumulate to create a financial burden that can drive households into, or further into, poverty.
Source: