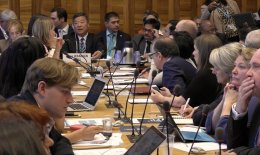 July 10, 2017
Global
Innovations from BRICS countries on people-centred health reforms at 70th World Health Assembly
On 24 May at the 70th World Health Assembly, a group of large emerging economies referred to as the "BRICS countries" – which includes Brazil, the Russian Federation, India, China and South Africa – convened at a side event sponsored by China. The aim: to share experiences and innovations on people-centred reforms as a cornerstone to making progress towards universal health coverage, using the WHO Framework on integrated people-centred health services as a basis for discussion.
The countries have made progress towards universal health coverage over the years, improving access to quality health services while also lifting hundreds of millions of people out of poverty. With this, they have amassed a wealth of experience on service delivery reforms from which other countries can draw valuable lessons.
Full text available on WHO website.