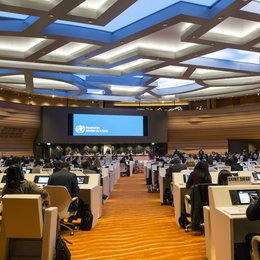 June 7, 2016
Global
World Health Assembly approves Framework
From 23 to 28 May 2016, Member States of the World Health Organization (WHO) met in Geneva for the Sixty-ninth World Health Assembly and approved with overwhelming support the resolution "strengthening integrated, people-centred health services" that supports the Framework on integrated, people-centred health services (IPCHS).
The Resolution was proposed by Andorra, Chile, Estonia, Finland, Japan, Latvia, Liberia, Luxembourg and Thailand as co-sponsoring countries and received additional inputs from India, Zimbabwe and Canada. During the discussions, the resolution received support and statements from various member states, including Austria, Belgium, Canada, the Member States of the Americas (represented by Chile), China, Costa Rica, the Nordic and Baltic countries (represented by Estonia), Germany, the Member States of the African region (represented by Guinea), Indonesia, Iraq, Japan, Kenya, the Republic of Korea, New Zealand, Panama, the Philippines, Slovakia, South Africa, Tanzania, the UK and Zimbabwe.
This important milestone gives the WHO the official mandate to work with its Member States and other key stakeholders to advance health service delivery reforms and to support the implementation of the Framework on integrated people-centred health services. The IntegratedCare4People web platform constitutes an important strategy to further the messages of the Framework and to support our stakeholders in implementing the Strategies therein.