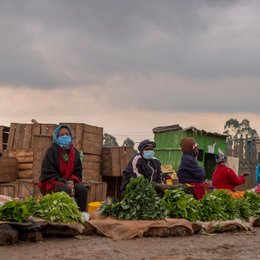 May 22, 2020
Africa,
Western Pacific
Community Responses to COVID-19: From the Horn of Africa to the Solomon Islands
While this pandemic has the potential to fracture societies, it is the resilience, solidarity, strength, and ingenuity of communities that will help overcome this crisis.
Highlights
Community-driven development (CDD) programs, which put people at the center of designing their own solutions, are a critical part of the World Bank's response to the global COVID-19 crisis.
The Bank is supporting countries in Horn of Africa and in Solomon Islands through CDD programs that are delivering cash and basic services to the most vulnerable.
To tackle a crisis of this magnitude and scale, countries need an equitable, whole-of-society approach, which lies at the heart of CDD programs.
The COVID-19 pandemic continues to have devastating impacts on people, with a disproportionate impact on the poor and the most vulnerable, who lack the coping mechanisms and essential services they need.
In a crisis of this magnitude, no single intervention is enough, and countries need to use every available platform and tool. CDD programs scaled up by World Bank in Horn of Africa and in Solomon Islands are a few examples of community-based interventions providing support to vulnerable communities and groups to get vital resources to people.
These are relatively early days in the World Bank´s efforts to help Governments respond to COVID-19. The operations are drawing lessons from previous pandemics, including the 2014-16 Ebola outbreak, which highlight the importance of community level efforts programs in crisis relief and recovery to complement medical efforts.
RELATED
WORLD BANK