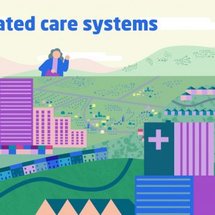 June 9, 2022
Europe
How does the NHS in England work and how is it changing?
Big changes are happening across healthcare systems this July due to the Health and Care Act, which will set integrated care systems (ICSs) in law. Reform in the NHS structure is long overdue to improve people's health and deliver better-quality care in a joined-up way. But how do ICSs work on a national and local level? And what will these new systems mean for organisations that make up the NHS, as well as the general population?

The King's Fund has created an animation guide in partnership with CF that answers these questions. Together with The King's Fund we hope this video helps explain these upcoming changes. We are proud help health and care organisations, providers, patients and stakeholders maximise the opportunity that ICS's present to improve population health, reduce health inequalities, improve system productivity and work collaboratively.