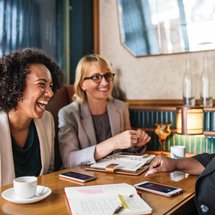 Sept. 14, 2016
Americas
Generate a New Conversation: Healthy Homes in Iowa Shares Goals with Housing and Healthcare Providers
Bringing Public Health and Primary Care Together: The Practical Playbook National Meeting was held in May 2016. The meeting was a milestone event towards advancing robust collaborations that improve population health.
One highlight of the meeting was interviewing community collaborations funded by The BUILD Health Challenge. The BUILD Health Challenge is a national awards program designed to support community collaborations that are working to give everyone a fair chance to be healthy.
Video Overview
Healthy Homes Des Moines is working to prevent and manage pediatric asthma caused by deteriorating homes, below standard HVAC systems, and pests. In these case, the key health problem is the condition of the housing.
About the Practical Playbook National Meeting
Key stakeholders from across sectors – representing professional associations, community organizations, government agencies and academic institutions – and across the country came together at the Practical Playbook National Meeting to help catalyze a national movement, accelerate collaborations by fostering skill development, and connect with like-minded individuals and organizations to facilitate the exchange of ideas to drive population health improvement.