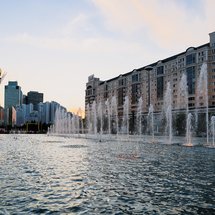 July 21, 2023
International conference commemorating Alma-Ata 45 and Astana 5 – on primary health-care policy and practice: implementing for better results
On 23 October WHO/Europe, together with UNICEF and the Government of Kazakhstan, is co-hosting an international conference to commemorate the 5th anniversary of the Declaration of Astana and the 45th anniversary of the Declaration of Alma-Ata on primary health care. The Conference will be an official side event of the 73rd session of the WHO Regional Committee for Europe, to be held in Astana, Kazakhstan, in October 2023.
The Conference will:
take stock of progress implementing the commitments in the Declaration of Astana on primary health care since 2018, including the impact of the COVID-19 pandemic, and demonstrate concrete results;
shift focus from concepts to action by identifying implementation success factors based on country experiences; and
identify policies and practices to future-proof primary health-care transformation for moving towards universal health coverage, for greater resilience in the face of emergencies, and better health and well-being.
The Conference is aimed at strategic health leadership at national and subnational levels shaping primary health-care and service delivery transformation. In addition, senior officials in ministries of health with technical responsibility for organization of primary health-care services will be invited to participate, as will academic and technical experts from academic institutions, and international and nongovernmental organizations involved in shaping primary health-care services.
The Conference will be held as a hybrid event. The face-to-face conference can accommodate up to 600 participants based on nominations of invited Member States and Partners.
The online platform will have unlimited hosting capabilities and will be open to all wishing to register. The online platform will provide livestreaming of the event as well as the option to engage with content asynchronously through videos, presentations, and hosted discussion forums.
Structure of the Conference
Pre-Conference (1 September–22 October)
In the lead-up to the Conference, 4 moderated 3-hour virtual roundtable discussions will be held in order to establish a solid technical foundation for the Conference. The virtual roundtables will provide an opportunity to examine the evidence behind each of the plenary sessions, involve stakeholders to debate without capacity constraints, and come up with a summary set of points to feed into each of the plenary sessions. Key academic institutions and non-State actors will be invited to co-organize these sessions.
Conference (23 October)
The Conference programme is built around plenary and parallel sessions. The Conference will be livestreamed on the online platform in real time. Videos of the sessions will be available asynchronously.
A poster exhibit will feature country stories of transforming primary health care based on the WHO/Europe country vignette series and other published case studies.
Innovation booths will provide the opportunity to feature innovative approaches to primary health-care transformation and change management.
The meeting will be held in English, with simultaneous interpretation in English and Russian in the main panel and selected parallel technical sessions. Interpretation to other languages is being discussed. Materials on the online platform will be posted in English.
Event detail
From

:

to

:
Location:

Country:

Kazakhstan