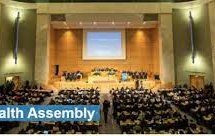 April 17, 2023
Europe,
Global
Conference
Seventy-sixth World Health Assembly
The 76th World Health Assembly will take place in May 2023. The World Health Assembly is the decision-making body of the World Health Organization (WHO). Attended by delegations from all WHO member States, it focuses on a specific health agenda prepared by the Executive Board.
The Seventy-sixth World Health Assembly is being held in Geneva, Switzerland, on 21–30 May 2023.
The theme of this year's Health Assembly is: WHO at 75: Saving lives, driving health for all.
Pillar 1: One billion more people benefiting from universal health coverage
Pillar 2: One billion more people better protected from health emergencies
Pillar 3: One billion more people enjoying better health and well-being
Pillar 4: More effective and efficient WHO providing better support to countries
Event detail
From

:

to

:
Location:

Geneva

Country:

Switzerland