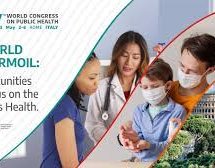 April 13, 2023
Europe,
Global
Congress
17th World Congress on Public Health
The 17th World Congress on Public Health coincides with a critical juncture for our world. The COVID19 pandemic has indelibly altered our planet and our lives, exacerbating existing inequalities and alerting us to the threats of an unsustainable mode of production. Conflicts worldwide, from Ukraine to Afghanistan, from Syria to Ethiopia — to cite a few — have further destabilised the world, alongside the devastating consequences felt by all those directly affected. And together with the pandemic and the war, we have failed to mitigate the effects of climate change — the pandemic itself a potential consequence — with environmental disasters growing in frequency and impact. We are undoubtedly living in a world in turmoil.
Now more than ever, these crises serve as an opportunity to advocate for and create better social protection systems, promote health for all, prepare for the challenges posed by future pandemics or global crises, and work together to end exploitation and to create harmony between nature and humanity.
Congress Theme
The theme of the Congress is "A World in Turmoil: Opportunities to Focus on the Public's Health". It underlines the commitment of working together across sectors to promote health equity and build a more sustainable and just future.
Plenary Sessions
No Public Health Without Planetary Health
Social Determinants of Health: Perpetuating or Counteracting Health Inequities?
Artificial Intelligence and Digital Health: Opportunities and Threats to Public Health
COVID-19: The Ongoing Challenge, Lessons Learnt, and How to Prevent the Next Pandemic
Mental Health and Social Wellbeing: A Priority Along the Lifespan
Vaccine Preventable Diseases and Vaccine Confidence: Improving Knowledge and Restoring Trust
Skills and Capacity for Health Improvement: Growing the Global Public Health Workforce
Conflict and Public Health: Prevention, Responses, Recovery, Rehabilitation, and Reconciliation
Event detail
From

:

to

:
Location:

Rome

Country:

Italy