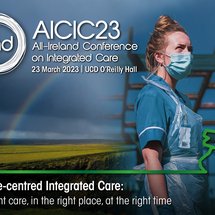 Jan. 20, 2023
Europe
Conference
AICIC23 All-Ireland Conference on Integrated Care | 23 March 2022 | Dublin UCD
This conference will focus on how integrated care is the solution to many of Ireland's health and care challenges, particularly the urgent care crisis and improved hospital admissions and discharge approaches. The conference will be attended by up to 300 delegates from across the island of Ireland and will include Health and Social Care Services Mangers, Clinicians and System leads, Academics leading in the field of integrated care, and a wide range of not-for-profit patient representative organisations and private sector providers of care services.
Keynote presentations and best practice examples will consider:
What needs to happen across the island of Ireland do reduce
pressures on hospitals and increase levels of health and care support in the community and closer to home?
Will the new structures and system transformation across the island of Ireland support a more people-centred, integrated service for all?
How taking an asset-based approach to care service models can improve multi-disciplinary working and deliver real co-design with patients, caregivers, and communities?
What kind of leadership is required across all levels of health and care to make real improvements for people, their families and the communities where they live?
What are the drivers of integrated care, and how can we ensure the right resources are in place to support the development of these important enablers?
Event detail
From

:

to

:
Location:

Dublin

Country:

Ireland