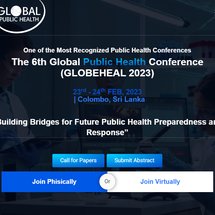 Dec. 19, 2022
Global
Conference
The 6th Global Public Health Conference (GLOBEHEAL 2023)
Welcome to the 6th Global Public Health Conference 2023 which will take place from the 23rd – 24th February 2023 in Hybrid Platform. We hope the GLOBEHEAL 2023 unites diverse researches and case studies from all over the world, in parallel sessions while offering many networking and publishing opportunities. Discover the latest trends and challenges in the field at this leading conference and enjoy everything the hybrid platform has to offer.
Over the course of the COVID-19 pandemic, we have learned about what we truly value and what truly matters in the regional and global context. At the same time, we have had to relearn the power of quality research in order to produce knowledge that is applicable outside of the research setting. Therefore, we encourage you to share your latest research and let your voices be heard at the Conference.
Purpose of the Conference
Empowering Global Public Health Professionals to Collaborate, Innovate and help to shape the Future of Global Public Health.
Event detail
From

:

to

:
Location:

Colombo (Hybrid platform)

Country:

Sri Lanka