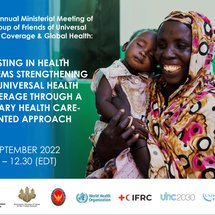 Sept. 20, 2022
Global
Meeting
UN General Assembly Third annual ministerial meeting on Universal Health Coverage: investing in health systems strengthening through a primary health care-oriented approach
The UN General Assembly is the main policy-making organ of the Organization. Comprising all Member States, it provides a unique forum for multilateral discussion of the full spectrum of international issues covered by the Charter of the United Nations.
This year's discussions will focus on addressing the various challenges the world faces, including the COVID-19 pandemic. These challenges call for global action, and the General Assembly is a critical opportunity for all to come together and chart a course for the future.
As we look to strengthen health systems in the wake of COVID-19, re-orientation of resources toward primary health care and essential public health functions will be critical for the achievement of UHC and the health-related SDGs.
This event, hosted within the UN General Assembly, is organized by the Co-chairs of the Group of Friends of UHC and Global Health (Georgia, Japan, Thailand), WHO, UHC2030, IFRC, UN Foundation.
21 September, 17:00 – 18:30 (CET)
Third Annual Ministerial Meeting on Universal Health Coverage: Investing in Health Systems Strengthening for Universal Health Coverage Through a Primary Health Care-Oriented Approach [virtual].
Event detail
From

:

to

:
Location:

ONLINE

Country:

None