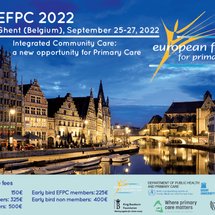 July 25, 2022
Europe
Conference
EFPC 2022 Conference Ghent. Integrated Community Care: a new opportunity for Primary Care
The European Forum for Primary Care Association is happy to announce its 2022 annual conference with a focus on Integrated Community Care.
It will take place in Ghent (Belgium). Pre-conference starts on Sunday 25/9 followed by the main conference from Monday morning 26/9 till Tuesday 27/9 15.30 pm
Key-Note Speakers:
Damiaan Denys – Professor and chair of the Department of Psychiatry (AmsterdamUMC) at the University of Amsterdam (UVA) in The Netherlands.
Hans Henri P. Kluge – WHO Regional Director for Europe.
Maria van den Muijsenbergh – EFPC Chair | Primary and Community Care, Radboud University Medical Centre Nijmegen Pharos, the Dutch Centre of Expertise on Health Disparities.
Valeria Cappellato – member of the General Council of Fondazione Compagnia di San Paolo, a research fellow at the Department of Cultures, Politics and Society, and adjunct professor in Sociology of Health at the University of Turin, Italy.
Menia Koukougianni, co-founder and manager of NGO KARKINAKI, Awareness for Childhood and Adolescent Cancer, an advocacy organization, founded by parents in 2015.
Event detail
From

:

to

:
Location:

Ghent

Country:

Belgium