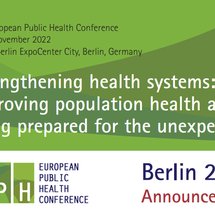 Jan. 20, 2022
Europe
Conference
15th European Public Health Conference 2022
WELCOME TO BERLIN 2022
The 15th EPH Conference in Berlin will be the first EPH Conference since Marseille 2019 to take place live and in person from 9 – 12 November.
THEME AND PROGRAMME
The theme of the in person 15th EPH Conference 2022 will be 'Strengthening health systems: improving population health and being prepared for the unexpected'. In the past years, we have learned from the Covid-19 pandemic that infectious diseases know no boundaries. Although we have seen the successful development of vaccines, we have also seen with the spread of the Delta and Omicron variants around the globe that these vaccines have not yet been available to everyone. At the conference, we want to explore ways how the public health community can bring about better population health. How can Europe take a more active role in global health? Europe must use its knowledge and influence to balance out market forces, expand regulatory oversight and create socially responsible systems for health, especially when it comes to the distribution of vaccines and essential medicines.
THEMES / PLENARY SESSIONS
Preparing for the unexpected: lessons learned from Covid-19 and other disasters
Expanding horizons: the role of Europe in global health
Achieving universal health coverage (UHC): reducing health inequity n Harmonizing information systems and health reporting: ensuring function and use
Measuring health system performance: using data to improve population health
Sustaining high quality care: interprofessional training for our clinical and public health workforce
Utilizing the transformational potential of health promotion: accelerating action on SDGs
ABSTRACT SUBMISSION OPENS 1 FEBRUARY
Abstract submission for the in person 15th EPH Conference 2022 is open from 1 February until 1 May 2022, 18:00 CET. Abstracts are invited for workshops, oral presentations, pitch presentations and E-posters. All sessions will be 60 minutes. Do not miss the opportunity to be recognised for your hard work. More information here.
Event detail
From

:

to

:
Location:

Hub27, Berlin ExpoCenter City, Berlin, Germany

Country:

Germany