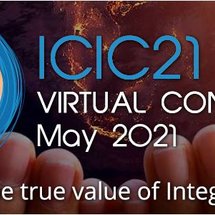 Dec. 4, 2020
Global
Conference
21st International Conference on Integrated Care (ICIC21)
In 2021 the 21st International Conference on Integrated Care (ICIC21) "Realising the true value of Integrated Care" will be run as a virtual conference, co-hosted with our hubs and collaborative centres IFIC Scotland, IFIC Australia, IFIC Ireland, IFIC Canada and IFIC Latin America. We have received a huge volume of feedback from our ICIC20 conference which took place in September and based on those suggestions we will be amending how the programme is designed and accessed to best suit a virtual format.
The main change from ICIC20 is that the conference will run across the whole month of May limited to 90 minute sessions taking place across various time zones. On each day of the week Monday – Friday, one of our 5 hubs in Ireland, Scotland, Canada, Australia and Latin America will host sessions.
The scientific committee for this conference has been established from international experts who are leading in the field of Integrated Care policy and practice, and they are accepting paper submissions on the science, knowledge and adoption of Integrated Care and specifically relating to the conference themes until Friday, 26 February. The paper should take the form of an abstract of not more than 500 words. Abstract Submission Guidelines are available to download from the conference website.
All accepted abstracts will be published in the International Journal of Integrated Care (Impact Factor 2.489). Accepted abstract will appear in the programme as a formal oral presentation, workshop, oral poster or display poster, as deemed appropriate by the scientific committee. All accepted abstracts will compete for the annual IFIC Integrated Care Awards. Our virtual conference last year that was to take place in San Sebastian received over 700 submissions so we advise that you take due consideration when submitting a paper to ensure you have the very best chance of success.
Registration: WHO have secured a 10% discount for our members. Please email Miriam Galvin miriamgalvin@integratedcarefoundation.org for your discount code.
Event detail
From

:

to

:
Location:

Virtual

Country:

United Kingdom