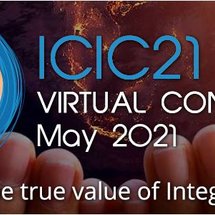 Dec. 4, 2020
Global
Conference
21st International Conference on Integrated Care (ICIC21)
In 2021 the 21st International Conference on Integrated Care (ICIC21) "Realising the true value of Integrated Care" will be run as a virtual conference, co-hosted with our hubs and collaborative centres IFIC Scotland, IFIC Australia, IFIC Ireland, IFIC Canada and IFIC Latin America. We have received a huge volume of feedback from our ICIC20 conference which took place in September and based on those suggestions we will be amending how the programme is designed and accessed to best suit a virtual format. The main change from ICIC20 is that the conference will run across the whole month of May limited to 4 hour sessions taking place across various time zones.
Presenters will once again be asked to pre-record their content, however in this conference we will make those recordings available to delegates to access in their own time and will be posted to our Knowledge Tree after the conference to be accessed by a wider audience. During the live sessions successful authors will be asked to reduce the time of their presentation to key points and sessions will be run interactively hosted by one or two chairs who will lead a discussion with paper presenters for 2 hours. This is much more enjoyable for the viewer and we hope to encourage more engagement from the audience for presenters by using this format.
Workshops will also be designed with the virtual audience in mind and our scientific coordinator will work with workshop leaders to ensure their session is appropriately designed to make the best use of digital technology and provides the best learning experience for attendees.
For our digital poster display we will reduce the number of accepted posters (as the volume with our previous conference caused issues with loading) and will include dedicated times for digital posters walks. Again improving the experience for poster presenters and attendees.
Registration: WHO have secured a 10% discount for all
IntegratedCare4People.org
members. Please email Miriam Galvin
miriamgalvin@integratedcarefoundation.org
for your discount code.
Event detail
From

:

to

:
Location:

Virtual

Country:

United Kingdom