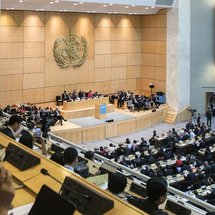 May 12, 2020
Global
Conference
Seventy-third World Health Assembly (WHA73)
The World Health Assembly is the decision-making body of WHO. It is attended by delegations from all WHO Member States and focuses on a specific health agenda prepared by the Executive Board.
This year, the 73rd World Health Assembly is held virtually in light of the ongoing COVID-19 pandemic.
A reduced (de minimis) meeting was held on 18-19 May 2020.

The resumed WHA73 will take place from 9-14 November 2020.
You will be able follow proceedings on WHO webcast.
All documents can be found on the main documents page for the WHA73.
Event detail
From

:

to

:
Location:

Geneva

Country:

Switzerland