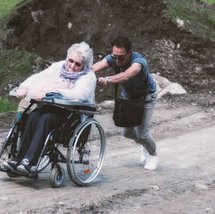 May 12, 2020
Europe,
Eastern Mediterranean,
Global
Other
Webinar: Promoting Visibility and Inclusion: Protecting Older Persons and People with Disabilities during the COVID-19 Pandemic
The COVID-19 pandemic is intensifying inequalities and producing new threats for older persons and persons with disabilities. COVID-19 case fatality rates suggest a notable increase in risk after age 60, with progressively worse outcomes for those over 70 and over 80 years. Likewise, people with disabilities are among the hardest hit.
To raise awareness and ensure that the UN regional system is equipped to help governments guarantee the equal rights of older people and people with disabilities to access healthcare and lifesaving procedures during the pandemic, UNFPA, WHO and UNDCO, in coordination with the United Nations European Regional Issue Based Coalition on Health, will convene a one-hour webinar focused on supporting UNCTs in their work to advocate for greater attention to the specific needs of vulnerable persons. Panelists from civil society organizations actively engaged with the UN system will offer views on scaling up immediate responses while making COVID19 a catalyst for building more equal societies for all ages and abilities in the future.
Speakers:
Francoise Jacob, Resident Coordinator, Serbia - You raised the alarm early on. What are challenges that you faced and what more should be done by the UN system?
David Evangelista, President, Special Olympics Europe and Eurasia - Tell us about the specific vulnerabilities of people with disabilities in this region to COVID19 and what we should all be doing to protect their rights and health during this pandemic
Dr. Daniel Lopez-Acuna, Adjunct Professor, Andalusian School of Public Health - What lessons can be drawn from the implications of COVID19 on older persons in Spain to benefit the EECA region?
Justin Derbyshire, CEO HelpAge International - What are the urgent actions required now and how can COVID19 be a catalyst for improving the status of older persons in societies
11:45 AM CEST | 12:45 PM Istanbul
Event detail
From

:

to

:
Location:

Istanbul

Country:

Turkey