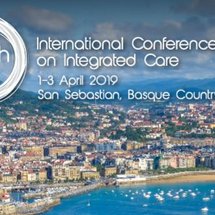 Sept. 11, 2018
Europe
Conference
A shared culture for change: Evaluating and implementing models of integrated people-centred services
The International Foundation of Integrated Care (IFIC) in partnership with OSAKIDETZA – Basque Health Service, Bioef, Ministry for Health of the Basque Government the City Council of Donostia-San Sebastian and the Provincial Council of Gipuzkoa presents the 19th International conference on Integrated Care "Evaluating and implement models of integrated people-centred services" to take place in San Sebastian, the Basque Region in Spain 1-3 April 2019. The conference will bring together researchers, clinicians and managers from around the world who are engaged in the design and delivery of integrated health and social care.
The Integrated Care Academy© Award for Best Paper and Posters will be presented at the conference. All papers presented as oral presentations or posters at the conference will be published in the International Journal of Integrated Care (IJIC).
The scientific committee for this conference has been established from international experts who are leading the field of integrated care policy and practice, and they are now accepting paper submissions on the science, knowledge and adoption of Integrated Care and specifically relating to the conference themes until Friday, 28 September. The paper should take the form of an abstract of not more than 500 words. Abstract Submission Guidelines are available to download from the conference website.
All accepted abstracts will be published in the International Journal of Integrated Care (Impact Factor 2.230). Accepted abstract will appear in the programme as a formal oral presentation, workshop, oral poster or display poster, as deemed appropriate by the scientific committee. All accepted abstracts will compete for the annual IFIC Integrated Care Awards. Our International conference in Utrecht last year received over 700 submissions so we advise that you take due consideration when submitting a paper to ensure you have the very best chance of success.
Register here and use the code PARTNER to get a 10% discount.
Event detail
From

:

to

:
Location:

San Sebastian

Country:

Spain