Developing family medicine and primary care worldwide through global collaboration and co-learning
The COVID-19 pandemic represents one of the rare health emergencies that all humans on our planet have experienced simultaneously. Global news feeds provide us with near instantaneous updates regarding case numbers and disease impacts that not only affect our immediate community, but also other communities and contexts worldwide. In this sense, COVID-19 has truly highlighted our experience as global citizens.
Primary care (in its various global iterations, such as family medicine and general practice) is increasingly recognized as a keystone for improving health outcomes worldwide. Most certainly, we are beginning to see the converse impact that the pandemic has had on the practice of primary care. Earlier this year the Canadian Family Physician blog highlighted this experience through a podcast series developed by Dr. Christine Gibson with the support of the Besrour Centre for Global Family Medicine. Representing family physicians and primary care educators from 11 countries, these podcast narratives demonstrated the challenges in health delivery that primary care providers have experienced as a result of COVID-19 (Link to episode 1 of podcast series). However, they also revealed a surge of local innovations and gained experience as primary caregivers adapt to our new paradigm. At a global level, convergence of these experiences can facilitate strategies for engaging communities and coordinating integrated people-centred services within health care and across other sectors (Figure 1).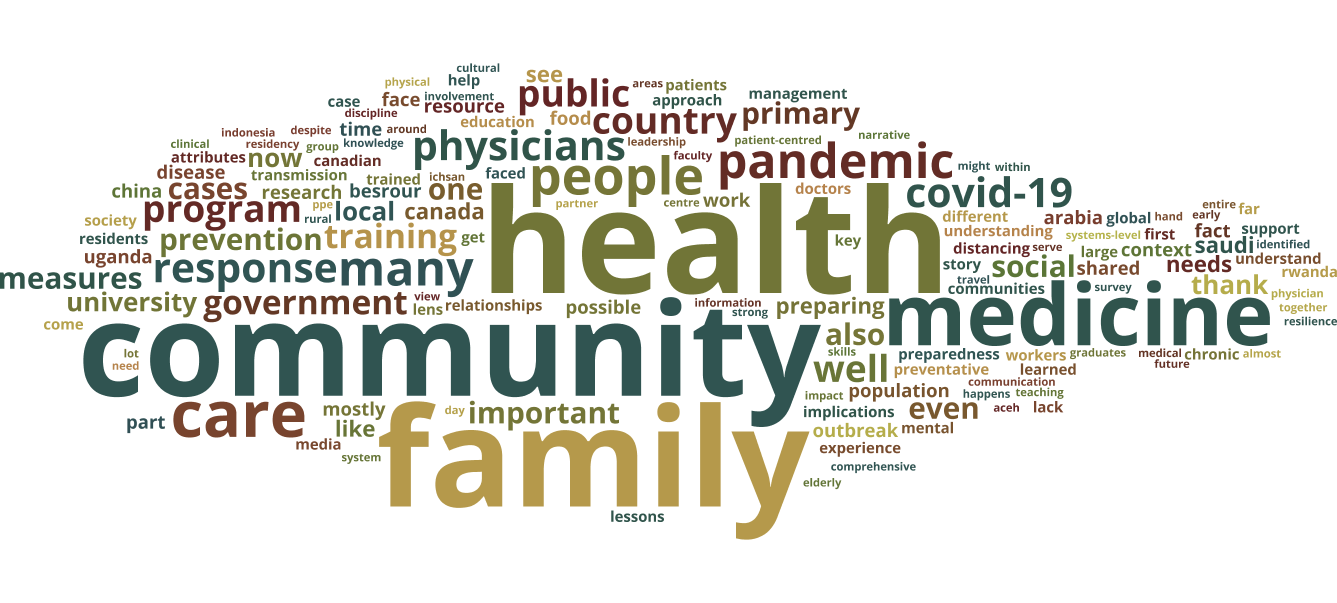 Figure 1. Word cloud for podcast series "Stories from the frontlines – family physicians around the world responding to COVID-19"
We are fortunate to have the unique technological capacity to nurture our global networks and communities during this crisis. Through sharing of our newfound knowledge and experience, we can build resilience within our health systems at both a local and community level.
The Besrour Centre strives to foster this spirit of global collaboration and co-learning with the aim of developing family medicine and primary care worldwide to improve health outcomes. Based on three pillars of advocacy, education and research, its mandate is a natural "fit" for synergies with other platforms for collaboration, such as IntegratedCare4People.org.
The Centre's first collaborative effort with IC4P is FM Pivot, an online educational resource scheduled to launch on the IC4P site in early 2021. Incorporating literature evidence and "lessons learned" from the COVID experience of the global primary care community, FM Pivot educational modules will aim to assist global family physicians/primary caregivers and their educators adapt and transform their health care delivery in the face of future global health emergencies.
Our hope is that collaborations of this nature will provide opportunities to "weave threads" between communities of practice to add to the "fabric" of resilience within and between global health systems. We have much to share and learn!
To keep up to date, subscribe to the IC4P- Besrour Centre Forum.
---
Disclamer:
Any views and opinions expressed on this blog are soley those of the original authors and don't reflect the views and opinions of affiliated organizations, nor those of the Integratedcare4people.org.
Comments are welcome. The blog owner is not responsible for the content in comments and reserves the right to edit or delete any comments submitted to the blog without notice.