June 22, 2018
Blog: Improving Infection Prevention and Control activities in a state of devastated health care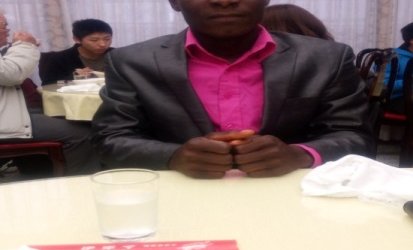 Region: Global
Multiple streams
This blog was authored by Mr Samuel Seeigbeh; Physician Assistant at Tellewoyan Memorial Hospital in Voijama City, Lofa County, Liberia. He is the IPC focal point for the hospital and works in the ED.
Tellewoyan Memorial Hospital (TMH) is the only county referral hospital located in Voinjama City, Lofa County, Liberia, West Africa. TMH is a 150 bed-capacity hospital and provides emergency, pediatrics, internal medicine, obstetrics & gynecology, dental care and surgical services. Given its close proximity to Sierra Leone and Guinea, health services are also provided to those living at the border within these countries.
In late June to early July 2014, TMH received the first case of Ebola Virus Disease (EVD)[1]. At that time there were limited standard infection prevention and control (IPC) standards in place at TMH and throughout Liberia. Sadly, several TMH staff members were infected by EVD and two staff members died. This resulted in a temporary closure of the hospital and staff dispersed and sought safer places to work. As the infection rates for EVD increased and the outbreak spread to Monrovia and other parts of the country, Liberia suffered serious health and economic burdens resulting in significantly depleted resources. The outbreak revealed the limited supply and processes in place to maintain good IPC practice[2].
In March 2016, TMH became interested in partnering with Nagasaki University in Japan in order to support the recovery of health services at TMH. Shortly following this initial interest, an official agreement for a twinning partnership was made with Nagasaki University Hospital (NUH) and the Ministry of Health (MOH) in Liberia in July 2016. WHO helped to facilitate this institutional health partnership using the Twinning Partnership for Improvement (TPI) model. In alignment with the TPI 6-steps cycle, a situational assessment[3] was conducted in October 2016 to ascertain the quality measures needed at the TMH. Following this initial assessment, a gap analysis was then completed and partners mutually agreed on the priority improvements, which included IPC, hand hygiene and waste management.
Throughout the partnership, there was an enormous exchange of ideas along with the formation of a "Rulebook", which was collectively developed between the partners and aimed to govern the partnership and recognize the cultural diversities on each side of the partnership. While there have been many improvements at TMH, one great improvement is the compliance, adherence and commitment to hand hygiene. Staff are now demanding that the improvements to hand hygiene continue and are proud when a good hand hygiene compliance score is received. Ward competitions are being held to recognize the ward with the best hand hygiene scores. As a result of the partnership, senior hospital leadership and management are openly committed to IPC and hand hygiene. Systematic monitoring tools to track waste management and compliance/usage of alcohol-based hand rub (ABHR) were developed to track the progress. Learning events within Lofa county have been held and led by TMH staff to share the good work that has been done. The improvements in practice and process at TMH and the lessons learned have helped to inform the national direction on quality in the ministry of health.
Key lessons learned:
TPI supports an exchange of ideas between diverse societies, cultures and incomes. There is much to learn from each which can lead to innovations and best practice. For example, ABHR bottles are now placed in wall-pockets at every entrance to patients care areas, offices, and hallways. This was collaboratively developed with NUH and replicated at TMH. TMH has spread this to other health facilities in Lofa country, thus improving compliance and reducing health care-associated infections rates nationwide.
The relationship established between both of the partnership has been pivotal to the success of the partnership. Over time, a strong trust has developed between the NUH and TMH teams. It was found that this was needed in order to overcome cultural and linguistic barriers and help propel the priority actions forward.
It is important to plan and strategize for sustainability. As the partnership scales down its support, there is inconsistency in supplying ABHR materials/ingredients at TMH. After several engagements with senior management at the hospital, the Senior Management has decided to dedicate a portion of the hospital's budget to IPC (to maintain the gains and create more improvements).
[1] This first patient at TMH was a contact of a confirmed case in Sierra-Leone. The first confirmed case to have started the EVD outbreak in Liberia was found in Foya city, Lofa County, in March 2014.
[2] For example, there was no procurement strategy for the supply of alcohol-based hand rubs (ABHR), face-shields, gowns, gumboots, aprons, mask, and hoods or hair covers for infection prevention purposes. Even the supply of hand gloves was significantly inadequate at the hospital.
[3] The WHO Hand Hygiene Self-Assessment Framework was used for this situational analysis.