Newsletter 20
April 2023

A digest of successful transformation stories, news and
other resources available on IntegratedCare4People.org
Seventy-sith World Health Assembly #WHA76
The 76th World Health Assembly will take place in May 2023. The theme of this year's Health Assembly is: WHO at 75: Saving lives, driving health for all. During the Seventy-sixth World Health Assembly, a series of strategic roundtables are being held. During these sessions, WHA delegates, partner agencies, representatives of civil society and WHO experts will discuss current and future priorities for public health issues of global importance.
4th Health for All Film Festival
Nearly 800 filmmakers from 106 countries have submitted short films for the 4th edition of the WHO Health for All Film Festival, on themes ranging from the trauma of war to living with COVID-19. Some 90 films have been chosen for the shortlist, for review by a jury of international artists and development leaders, before the announcement of the winners in June 2023. The online Award ceremony will take place in early June.
Universal health coverage evolution, ongoing trend, and future challenge: A conceptual and historical policy review
The goal of universal health coverage (UHC) from the United Nations (UN) has metamorphized from its early phase of primary health care (PHC) to the recent sustainable development goal (SDG). In this context, this article aims to document theoretical and philosophical efforts, historical analysis, financial and political aspects at various times, and an assessment of coverage during those times in relation to universal health coverage in a global setting.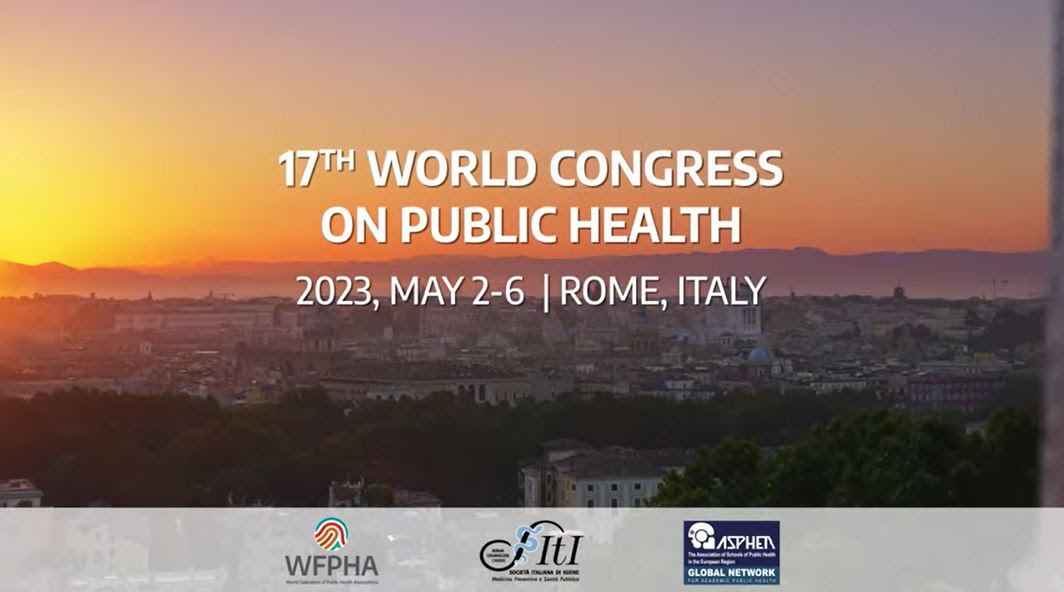 17th World Congress on Public Health
In May 2023, over 3,000 public health professionals and researchers, policymakers, and students will convene in Rome, Italy, for the 17th World Congress on Public Health, a momentous event organised by the World Federation of Public Health Associations (WFPHA) in association with the Italian Society of Hygiene, Preventive Medicine and Public Health (SItI) and the Association of Schools of Public Health in the European Region (ASPHER).

The theme of the Congress is "A World in Turmoil: Opportunities to Focus on the Public's Health". It underlines the commitment of working together across sectors to promote health equity and build a more sustainable and just future.
Primary Health competencies needed in the management of person-centred integrated care for chronic illness and multi morbidity: Results of a scoping review
Chronic disease management is important in primary care. Disease management programmes focus primarily on the respective diseases. The occurrence of multimorbidity and social problems is addressed to a limited extent. Person-centred integrated care (PC-IC) is an alternative approach, putting the patient at the centre of care. This asks for additional competencies for healthcare professionals involved in the execution of PC-IC. In this scoping review we researched which competencies are necessary for healthcare professionals working in collaborative teams where the focus lies within the concept of PC-IC. We also explored how these competencies can be acquired.
The future integrated care workforce
This toolkit brings together those with first-hand experience of designing, delivering, evaluating and participating in a Longitudinal Integrated Clerkship (LIC) within a UK Higher Education Institution and those working closely on programmes focussing on Health Education England (HEE)'s and NHS England's national priorities.
In August 2022, a collaborative workshop was held for students and tutors participating in a London-based LIC in 2021–2022, faculty with prior experience in running LICs, and HEE representatives. The aim of the workshop was to co-produce a toolkit to guide undergraduate institutions, who may wish to introduce an LIC within their medical school curriculum that aligns to these national priorities. Although this toolkit primarily focuses on a UK audience, we anticipate that other health systems facing a need for similar educational reform may also find use for this toolkit.
| | |
| --- | --- |
| | Any IPCHS-related news worthy to share? |